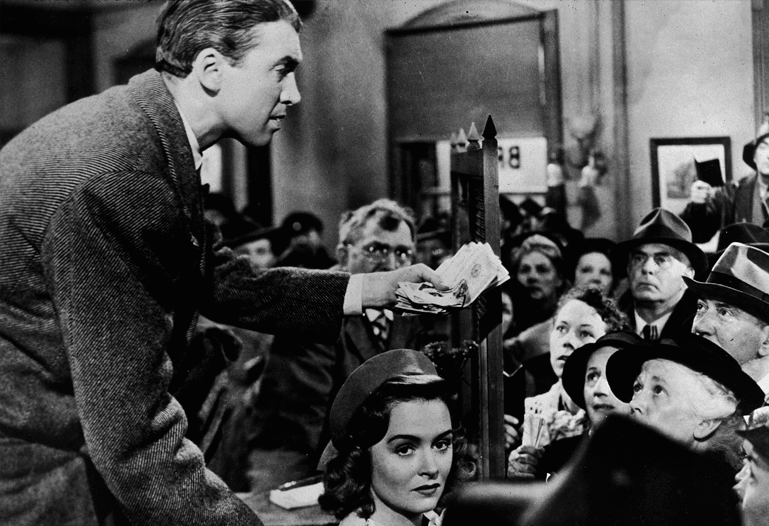 I have been watching It's a Wonderful Life annually since 1985: first, with a bunch of guys in the foyer of my college fraternity, and now with my wife and four children. We turn off all the lights except for the Christmas tree, snack on popcorn, and make peppermint ice cream sundaes. The film never disappoints year after year because it is a cinematic masterpiece.
This year it struck me that one of the most celebrated films of all time, and by far the most critically-acclaimed Christmas movie, is set in a small business. The Bailey Building & Loan is the center of all the action:
• Founded by Peter Bailey, the business has a solid mission to provide a needed service for the community
• Second generation leader George Bailey stewards the business through difficult war years, leading not only the business and his family but also serving his country
• Though George has skills that could fetch him more riches and glamour in New York City where his small town opportunist pal Sam Wainwright is living it up, George finds his calling in a more high-touch localized business
• George's family makes sacrifices right from the start, as George and Mary use their dowry to save the business from collapse on their wedding day
• The error of a subordinate causes George entrepreneurial stress that brings feelings of desperation and worthlessness, driving him to backslide spiritually – even to the point of contemplating suicide
• Turning to The Lord, George receives a revelation: His life is not defined by his company's mistake, but by the fruitfulness of his life of selfless service and positive influence in every life he has touched
• By God's grace, George emerges from the trial with increased wisdom and faith
• Good triumphs over evil, and God uses what a man meant for evil to advance His divine purposes
"And we know that for those who love God all things work together for good, for those who are called according to his purpose." – Romans 8:28
Two minutes into the movie my wife Cathy started welling up and sobbing. "Already?" I asked. Her nod acknowledged the heartache and redemption that was coming. Cathy is a business owner's wife, just like Donna Reed's character in the movie. She knows the ups and downs and frustrations that can come when business leaders get sideways. She knows the feeling of relief when The Lord brings us through struggles, and the redemption and sanctification that build positively over years of such times of holy reproof.
Ultimately, the most important reward we reap is in the lives that are enriched by our ministry on earth – and we will not know the true meaning of it all until we get to heaven.
Ministry is not only what our pastors do or even the time we spend in small group or on a special mission trip. Ministry is every day, everywhere, especially in your business – whether you are an employer or employee.
In 2016 CBF will be on mission building relationships that equip, encourage, and energize leaders to live life on purpose because the world needs to know that it really is a wonderful (business) life.
Wishing you a Spirit-filled Christmas as we celebrate the birth of our Lord and Savior Jesus Christ!