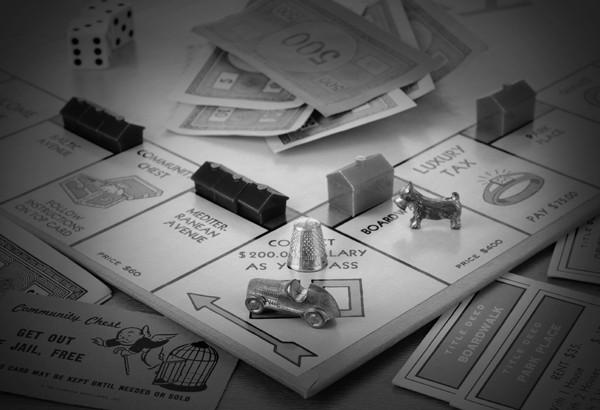 Today, I pondered the brilliance of board games. When I was young I played them for fun; in my teens it was to win; and now I play to learn. What's amazing about board games is that players make choices and can experience the results of those choices in a fast-paced play environment. When I played the game of Monopoly as a child, if I landed on Boardwalk I often reasoned that the cost of purchasing the property was more than I would gain. In my lack of vision, I was willing to take that risk even though I knew there was a chance that my opponent could purchase Boardwalk and soon take a lot of my money.
With what I know now, I would look much deeper into my buying decisions. I would take other factors into consideration that I simply did not see when I was young. I would assess the number of individuals playing the game and the probability of others landing on my property. I would evaluate my cash flow and how close I was to collecting my $200 for passing "Go." I would also assess the aggressiveness of my opponents and my overall desire to "win" the game. When I was young I simply wanted to play.
When I was young in business I simply wanted to own one. I wanted to be my own boss and experience the thrill of business ownership. I was like a young child playing a board game with short vision and the inability to see the complexity of the game. Like board games, business leadership is an amazing teacher. Here are three lessons I've learned:
You'll often have to pay for the few poor business decisions before experiencing the benefit of the many good ones;
You'll learn the art of calculated risk by gaining as much information as possible prior to making large business decisions. Business leadership is a game of patiently practicing more informed decisions each time you roll the dice to go to work;
Like a board game can expose a player's strengths and weaknesses, business ownership has exposed mine. As a result, I have learned that if I want to win in business, I have to actively engage in an offensive strategy to deal with my weaknesses. I can no longer ignore them, but face them head on as if I was playing myself in a game of chess.
As a Christian business leader, I follow the lead of the One who has called me to me this position of leadership, my Lord Jesus Christ. I trust that He has gone before me and will lead me to make decisions that will build a business that brings Him glory.
"The LORD is my shepherd…he leads me in paths of righteousness for his name's sake." – Psalm 23: 1, 3
I have not always followed God's lead well as I tried to lead my business. I have made poor choices and their consequences have been felt. Most of my education as a business leader has come from lessons learned through bad decisions; and then, the course corrections I needed to make to avoid making matters worse. While the trajectory of my business has not always been up, the business continues to make great gains as I choose to stay teachable to the Lord's Scriptures, available to wise counsel, and faithful to the process.
May God Bless you in your pursuit of business leadership.