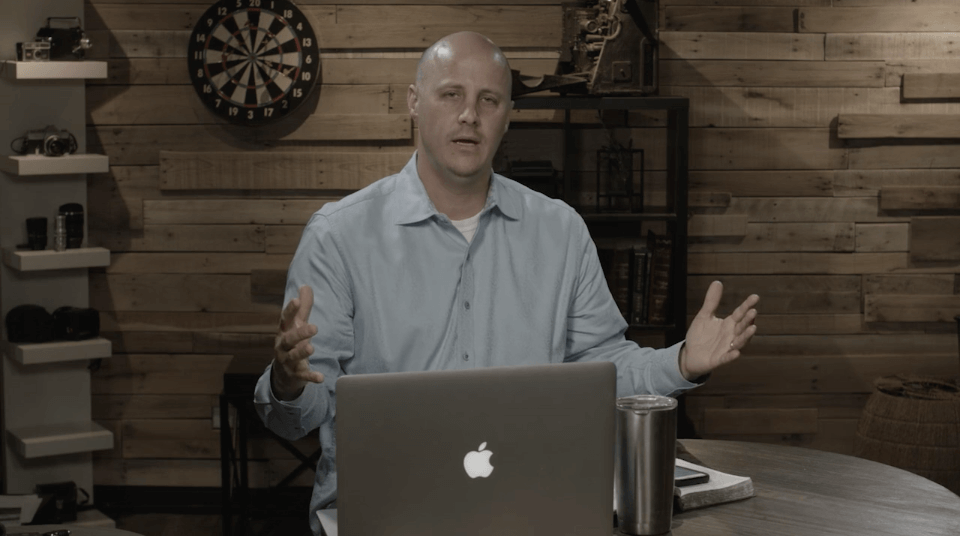 Facing Obstacles – Earl Seals


Transcript: Welcome back to CBF. When I think about business and faith and how they intersect, I'm reminded obviously of God's Word.
When coaching people, I'm reminded of this: that there's a process of success, and generally it starts with Step 1, which is a journey of success – it's not a moment, it's a process, it's a journey by which we succeed – and that reminds me of life, in reality.
It really starts when you think about the beginning of where you're at really today, that the yesterday is the past, and that the past is really a foundation by which you can either live in the past or you can use the past to press you forward and to build upon.
When I think of the steps to going through growth and success in business, it literally does bring me to the concept in my mind of a journey, especially in the Smoky Mountains where I grew up. If any of you have ever been out to the Rocky Mountains, been to the Smoky Mountains, been to Yellowstone, and actually done some significant hiking, you would understand it generally starts off very flat.
But sometimes it really just takes Step #1, the courage to actually step out. I see that every day. I see it really specifically on Mondays; when people take time off or vacation, they don't come back in a mode by which they're enthusiastic or they're motivated. That's an improper philosophy when it comes to business a lot of times. Sometimes you've just got to do what is difficult and you have to face that, do what is difficult.
But it is the process of starting. The first key characteristic that I see often is just simply courage. It's saying, I'm going to be courageous. Courage is not the absence of fear; it's the ability to have action regardless of fear.
When you go through that, you start in motion, taking action. From there often you start hitting the real – you're going up the climb. You know what I'm talking about. From that, there's all sorts of things.
There's the valleys, which is super difficult. Maybe it's a string of no sales. It could be a giant log you're trying to climb over, which is an obstacle, how do you get over it, around it, under it? It's that characteristic. It's the journey, it's what is difficult that you're in.
When I think about difficulty, it's the processing of difficulty. Listen to me on this. It's the no's that you don't always want to hear. It is the obstacles that sometimes, quite frankly, you don't even like or want or don't even understand.
There's either self-imposed obstacles or God-allowed obstacles in a lot of cases. We don't want to deal with that. "I don't like it!" That's our nature. It could be just something that I'm not aware of, or something comes into my life that I'm not familiar with. But all of those things have a tremendous mental weight.
I would just like to cross over right there for a moment, and what I'd like to cross over is the processing of obstacles. That is actually seen in God's Word, if you look at it. If you look at what James wrote in James 1:2, he gets it. He gets it, and he writes this down.
He says: "Count it all joy, my brothers and sisters, count it joy when you meet trials of various kinds, for you know that the testing of your faith produces steadfastness. And let steadfastness have its full effect, that you may be perfect and complete, lacking in nothing."
I think James gets it, and what I mean by he gets it is, is it realistic that you and I are going to walk through life and not have tremendous obstacles? It's not whether we have obstacles; it's how we process obstacles. It's not whether we're going to have failure; it's how we process failure.
It's not whether we're going to have difficulty into our future. We're pretty much promised it. As a matter of fact, what's more important than dreading it is looking for the benefit of it.
James talks about it. The processing of the difficulty, the trials of different kinds, produces steadfastness. It builds inside of you character. "I will not give up. I will not stop. I have a hope beyond this world. I know where I'm going." This is a temporary trial at best; let it have its full effect.
Remember what James just said? He said "count it a joy." You're like, you've got to be kidding me. What are you talking about? Count it a joy that you have challenges of different kinds. Count it a joy? Here's why.
The obstacles in themselves, the difficulties that we find in life, they are the framework by which we can understand joy. If everything was easy, if everything was flat, there would be no summit. If you did not cross over the streams and climb over the logs and get chased by a bear – just hypothetical – if you did not struggle, you would never experience the joy of the summit.
You're promised obstacles. It's going to happen; we all know that. But instead of us dreading them, let's embrace them as the ability to do a couple things – to form our character, to test our character, to show pressure in the dam by which we have cracks revealed that we need shoring up; and the second, which is to lean into the Lord. These obstacles are what reveal our self-reliance versus our reliance upon Him.
I would just encourage all of you guys, as you're processing and walking through this week, this month, to actually count it a joy when you face trials of many kinds, because the testing of your faith, these trials, produce steadfastness. It produces in you a joy of your salvation.
Have a wonderful week and a wonderful month.